We would like to share with you our journey through the Sciath na Scol Campaign so far.  To-date, we have won all five of our games.  Our first victory was against Ballyvongane and the score was Rusheen 2-10 Ballyvongane 1-7.  In our second match, we played Ringaskiddy in Ringaskiddy and we put our best performance into the game.  We won and the final score was 3-8 to 2-5.   In our third match, we played Vicarstown in Coachford and the final score was 2-5 to 1-6.  In our fourth match, we played Terelton in Coachford and the final score was 3-8 to 3-2.  We were then into the semi-final against Shanagarry  and we put the win in the bag, the final score being 3-11 to 0-2.  We are now in the final against Ballintotis and it will be held in Páirc Ui Rinn on the 6th of November at 12.30 p.m.  We hope you can support us.
James & Michael Twomey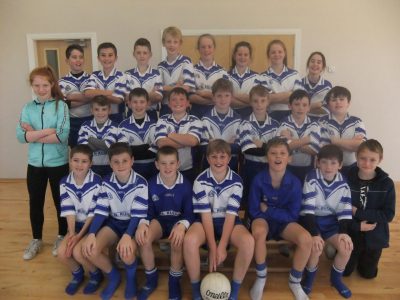 The Sciath na Scol Final was on Wednesday, 14th of November.  We left school at 11.00 a.m. by bus.  We arrived at Páirc Ui Rinn and entered the stadium.  We entered the dressing room and put on our gear.  We were given our jerseys and did our stretches to warm up.  We got onto the field and then we got our names announced and we waved to the crowd.  We did some drills until throw-in.  Ballintotis got the first point.  Rusheen then made a massive comeback.  It was Rusheen 1:3 and Ballintotis 1:1 at half time.  Ballintotis then scored more points.  Our captain, Luke Ring, then scored a penalty making the scoreline Rusheen 2-3 to Ballintotis 1-7.  Unfortunately Rusheen lost.  It was a great game and a tough match.  Thanks to all the supporters.
Rusheen scorers  L. Ring (1-1), S. Cummins (1-1), M. Buckley (0-1)
Afterwards we went to the Lee Valley Golf Club for food and ice-cream.  Thanks to the Parents' Association for organising that.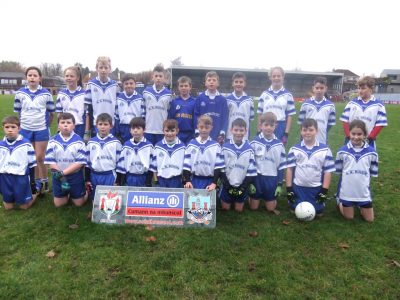 By:  Luke & Ben